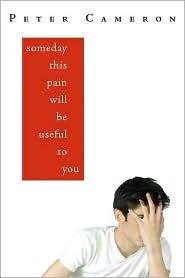 "I only feel like myself when I am alone."
Peter Cameron's newest book, Someday This Pain Will Be Useful to You, had me hooked so deeply I didn't want to go to work, sleep or eat until it was finished. This is one of the most intelligent, sharp, subtle books about depression that I have ever read. The publisher is comparing it to Catcher in the Rye. Personally, I think it's way better. (Better cover, too. Doesn't that picture speak volumes? And I love the title. It's all perfect. Just perfect.) I don't think the depression that Cameron is writing about here is coming-of-age, figuring-out-who-you-are angst. It goes deeper than that. It is truly existential, the deadening, deep-down pain you feel when you just can't connect to the people in your life, even those that love you. This is a novel that smashes teen issue books right out of the ballpark.
"I knew she wanted to help me. I knew she was my mother and loved me and I didn't want to be mean, but there was something else inside me, something hard and stubborn that was mean. It just bugged me that she thought if I was gay she could do something to help, like give me a Band-Aid or something...I knew I was gay, but I had never done anything gay and I didn't know if I ever would. I couldn't imagine it, I couldn't imagine doing something intimate and sexual with another person. I could barely talk to other people, so how was I supposed to have sex with them? So I was only theoretically, potentially homosexual."
James Sveck, the book's 18-year-old hero (or antihero) is astutely intelligent, observant, intense, and so disconnected he cannot handle a high school trip to Washington without panicking and going awol. ("I was the missing misfit" he tells his psychologist when she is trying to pry the story out of him.) His only connected relationship is with his grandmother, whose defining interest in decorum is similar to James' defining interest in correct use of language, and whom he visits when he needs to feel understood and comforted. His traumas--such as what he saw outside the window of his manhattan high school on 9/11--are difficult for him to articulate even to himself. His parents are pushing him to go to university, hoping that he will blossom when surrounded by peers of equal intellect. James freezes at the very thought of four years of interaction with other people. A telling moment comes when James, expressing a deeply buried attraction for an employee of his mother's, makes up a false profile on a dating site to attract him. When John finds out that the gay Sorbonne graduate who now works in Sotheby's art department is in fact really James, he is furious in a way that leaves James even more alone.
My heart was with James all the way through, even while I could see all the ways he was pushing people out ( for example, with his habit of turning conversations about emotion into arguments about linguistics). Cameron made me really want James to come to terms with himself and with other people. The ambiguous ending leaves me hoping that perhaps he will.